DUO (Europe) plc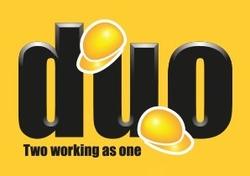 4, Rye Hill Office Park
Birmingham Road
Allesley
Coventry
Warwickshire
CV5 9AB
United Kingdom
T: 0845 22 22 386
F: 0845 22 22 387
Description
DUO (Europe) plc provide solutions to the Aggregate Processing, Materials Recycling and Bulk Handling industries. These solutions are delivered through our three companies: DUO Equipment; DUO Manufacturing and DUO Mineral Processing.
DUO Equipment:
DUO Equipment are dealers for industry leading manufacturers Terex MPS and Powerscreen Washing equipment meaning we are ideally placed to provide the right equipment for quarrying and aggregate recycling applications.
As a specialist washing dealer we can offer everything from individual sand plants and logwashers through to complete wash plants. In addition, we also supply crushing, screening and Water Treatment equipment enabling us to provide our customers with a turnkey solution.
There are two key factors that differentiate DUO Equipment:
- We supply equipment manufactured by industry leading brands;
- Our vast experience and application knowledge, which is evidenced by our Contracting division, means that we select the right equipment to maximize the efficiency of your operation.
DUO Manufacturing:
DUO Manufacturing deliver turnkey solutions for Materials Recycling and Bulking Materials Handling applications. We offer a customised design solution, which although unique to your needs, provides a high-build quality incorporating the maximum amount of operating efficiency combined with low-level maintenance requirements. We provide a complete package from initial design to manufacture, installation and full project support
Typical products include but are not limited to:
Materials Recycling: Turnkey Waste Systems; Trommels; Mobile & Static Picking Stations; Feeders.
Bulk Handling: Conveyor Systems; Bottom Discharge Units; Hoppers.
DUO Mineral Processing:
DUO Mineral Processing offer a comprehensive Unit Cost Processing facility that is tailored to meet individual customer's requirements. This may be supplying a Processing Plant alone or the provision of Operators and associated Mobile Plant as well. Unit Cost Processing works on a fixed price per ton basis. This means that there are no surprise costs for our customers and enables accurate financial Planning.
We take responsibility for the supply of 'in specification' material when our client requires it, and should our client's requirements change, equipment can be added or taken away with the price altered accordingly.
Categories
Latest News from DUO (Europe) plc
Based in Southwick, West Sussex the Dudman Group has over 30 years-experie… Read Full Article
Owned and operated by Hanson UK, Masters Quarry is situated on the Puddlet… Read Full Article
As a racing partner to the Sahara Force India Formula One team the DUO Gro… Read Full Article
Used Equipment
Downloads