CRS NI Limited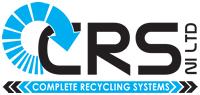 136 Termon Road
Carrickmore
Co. Tyrone
BT79 9HW
Northern Ireland
Description
CRS have gone from strength to strength due to their continuous repeat business received from customers over the years as a result of quality time spent with their customers ensuring to find a solution to exceed their expectations, their high quality build and excellent after care service.
CRS have always designed and manufactured all products in house and over the years they have extended their factory to ensure they can cope with capacity and flexibility for their customers to customize products to suit their requirements.

CRS have facilities including Plasma Cutting Machines, 400Tonne Break Press, Machine Shop, a full Welding shop, Fabrication shop, 1 Sand Blasting Shop & 2 Paint Shops.
Sean Conlon commented "We are renowned for bringing innovative products to the market and our facilities all in house allow us to design, manufacture and test our products in a short timeframe ensuring we can launch them to the market which is very important for our customers"
One of their most recent innovations was the Only 4 Bay Mobile Picking Station on the Market.
The CRS Mobile Picking Station can be fed by any Screener or Trommel with its heavy duty feed hopper offering customers high throughput with 8 separate picks. The Picking station can be manoeuvred easily onsite with the 5th wheel pin and has a quick set up time on site to ensure down time is kept to a minimum. On site erection is quick & safe using 4No separately controlled, hydraulic jacking legs taking care of uneven site conditions, while the remote control keeps the operator at a safe distance during the set up procedure.
CRS New Mobile Picking Station
Sean Conlon, MD of CRS commented "There is nothing like this on the market and we believe our Mobile Picking Station will offer customers ease of transport from site to site, quick set up time, higher daily production and it compliments our full range of Complete Recycling Solutions."
With a high reputation already established for their award winning, patented Fines Recovery System as the best on the market, CRS also launched their New "Double Drum Air Separation Unit with Flip Flow Screen" earlier this year.
This unique Double drum Air Separation Unit with Flip Flow Screen is the only system of its kind on the market and enhances CRS's already patented and high performing direct drive flip flow system driving both decks ensuring maximum agitation.

The double drum design uses two high powered fans directed through two separate adjustable air nozzles working in conjunction with the double drums to produce an even cleaner material and a more effective separation.
To find out more or to discuss specific recycling requirements contact us at marketing@crsni.com / Tel 028 807 60496 or visit our website which provides an overview of our full product offering at www.crsni.com
Categories
CRS expand their UK Distribution network and are pleased to announce Wolf … Read Full Article
Downloads