Manage This Business
Elite Precast Concrete Ltd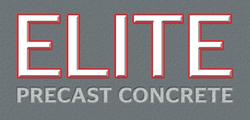 Halesfield 9
Telford
Shropshire
TF7 4QW
United Kingdom
Description
Elite Precast Concrete is one of the leading manufacturers of low-cost precast concrete products in the UK. The business combines the highest levels of customer service with the aim of always being the best value option.

Our focus is on driving down the cost base and then passing these savings onto our customers. This enables us to provide a constant and predictable price structure which in turn underpins our ethos of developing customer relationships over the long term. Indeed, over 65% of our clients have done business with us on at least two previous occasions. We have clients ranging from small start-ups and private individuals to international blue chip businesses. Each one is cherished and each receives the highest possible level of personal and professional service.

Product range
We have a huge range of 'semi-dry' and 'wet-cast' products which we supply to every sector of UK industry imaginable. These include service protection and drainage products through kentledge ballast blocks, safety barriers and security blocks to our premier ranges of interlocking wall blocks.

Elite are the UK's leading manufacturer of the revolutionary interlocking block systems which are used by thousands of businesses in a huge variety of industrial applications.

We offer three types of free-standing interlocking blocks – Legato™, Duo™, and Vee™. Each one is cast from premium quality, high strength (50N/mm2) concrete and incorporates its own integral lifting system. This means that whichever block type you choose you can be certain of getting the ultimate in both durability and flexibility.

The blocks are used in many varied and extremely demanding industries from metal and tyre recycling to radiation shielding (industrial/nuclear and health). Their applications also include... bay walls and bunkers, push walls, salt storage, firebreaks, silage clamps, radiation shielding, kentledge/counterweight blocks, embankment retention, site security, workforce protection, ground safety, and much more.

The blocks are cast from our high quality concrete, that doesn't contain any steel reinforcing or recycled aggregates, which means they are extremely fire retardant. Our blocks are recommended by many insurance companies and are approved for use as firebreaks.

The interlocking Temporary Vertical (TVCBs) and Jersey barriers in our product range are designed specifically to secure your site against unwanted visitors, for use as traffic management, as edge protection and to prevent falling debris from damaging railway tracks, car parks, etc.

Design & manufacture
All our products are made to the highest standards at our two extensive modern manufacturing plants in Telford, Shropshire which cover fifty thousand square feet of production area and two and a half acres of stocking space. Rigorously applied procedures and the latest production techniques ensure consistency and efficiency, enabling us to provide high quality products at the most economic prices. You can be assured that all raw materials are fully traceable and that the concrete is monitored for all dimensional accuracy, density, compressive strength on a regular basis.

We work together with our customers to ensure the most cost-effective solution can be achieved. Our in-house support team are always on hand to offer advice, provide estimates and help with project planning.

Technical team
Elite Precast Concrete prides itself on its strong reputation for excellent customer service coupled with a flexibility and desire to find solutions to the most challenging of customer requests.

Our customer service and technical departments are renowned for their ability to modify and adapt our existing 'off the shelf' products to suit the most specific and exacting of requirements.

This approach provides the customer not only with a considerable cost-saving, from that of a totally bespoke product, but also a production and turn-around time that can be greatly reduced.

Testing for quality
The quality and consistency of our products is something we take very seriously. We operate within an approved BS EN 1917 quality system. We are one of the few manufacturers of precast concrete products in the country that can boast of having its own, purpose-built, testing facility. We regularly perform a number of tests on both finished products and the materials used to manufacture these products.

Turnkey installations
In addition to our simple wholesale supply business, over the last eight years Elite Precast Concrete has also developed trading partnerships with a number of strategically placed and highly skilled contractors who can in turn offer anything from a simple off-load and install service (under a client's supervision) to a full turnkey installation.

Service and delivery
We regularly keep over £300K worth of standard products in stock. This allows, in most cases, for delivery times of between 24 and 48 hours from receipt of your order throughout the UK. We can deliver anything from one block to many thousands on a variety of different vehicles including flatbed artics and crane offload. We also offer a full install service.

All our operatives are trained to the highest standards to make sure all products are loaded efficiently and correctly ensuring they reach our customers safely and in premium condition. An export service is available on request to anywhere in the world.

Environment
Because our blocks are made from 100% natural materials sourced from local quarries, they are 100% recyclable at their end of their life. Combined with the 120 year design life, they therefore provide the most environmentally sustainable solution currently available. Our production processes benefit from the most modern and efficient low energy equipment and we embrace best practice in all aspects including rainwater harvesting.

We minimise our carbon footprint in all areas including making the best use of the transport network by utilising back loads for the majority of our deliveries. This minimises the road miles that any of our vehicles have to travel empty and of course means lower prices for our customers.
Categories
Elite Precast welcomes not one but two new members to their established sa… Read Full Article
RSG structures were recently commissioned by Hanson Aggregates to design s… Read Full Article
Elite Precast Concrete Ltd and RSG Structures have once again joined force… Read Full Article
Downloads